DAILY NEWS JOURNAL, MARK BELL, 2/24/2013 – When LaRue Chaney was a child, she was taught that — despite growing up in a place called Little Hope — goals, dreams and, indeed, "hope" are what life is all about.
Chaney, a life-long resident of the community that according to local lore was named by a visiting Baptist preacher who was disappointed in the turnout for a sermon, recalled her growing-up days during a Friday interview at her Baker Road home.
The 58-year-old was one of the last students to attend Little Hope School, the community's all-black school that once sat off what is the current-day Little Hope Road.  The school was closed in October 1965 and eventually razed.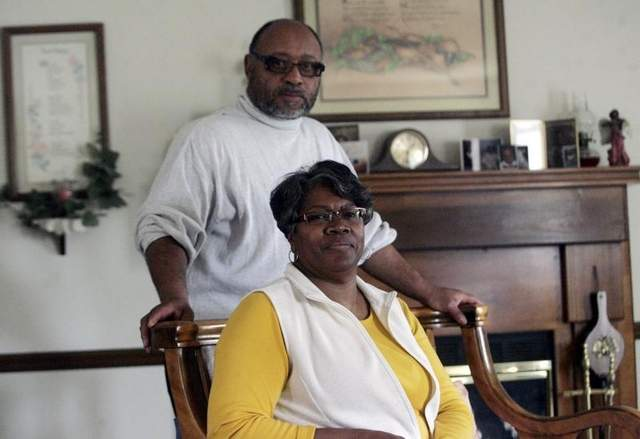 Edward Chaney stands with his wife, LaRue, at their home in the Little Hope community Friday. (John A. Gillis/DNJ)
"Right as you go down that little lane called Little Hope Road now, there is a little white building where the water pump was," she explained. "Right in front of that was the school. It was just a two-room school when I went there. There was a large room for the schoolroom and another room for the cafeteria."
Rutherford County Historian Greg Tucker in a Remembering Rutherford article notes that the first of four schoolhouses was built of logs and brush on property donated by Bird Peebles, a black landowner.
Chaney was taught for six years by Lydia Glanton, a woman she remembered as "stern," but who"enforced education" and taught her many valuable lessons.
Glanton later served as a member of the Rutherford County School Board.
"Ms. Glanton taught us to be the best we could be, that education was first and to strive to fulfill your dreams," Chaney said. "It's a very fundamental thing to learn. I still stress that with my daughter, and now with my grandchildren.
"A lot of things can be taken away from you in life, but your education cannot."
Chaney's own aunt worked in the cafeteria at Little Hope School, she recalled.
"They had great lunches," Chaney said. "And you knew the people cooking your food, and it was good home cooking. You could go back in line as many times as you wanted without having to pay for more like they do in schools now."
When not in school as a child, Chaney said she could be found helping her now-deceased father, Brack Howse, in his cotton field that bordered the Little Hope School's property.
The family also kept busy in a vegetable garden and raised cows, chickens, and hogs.
"A city person thinks, 'how do you survive?'" she said. "If you have cows, you milk them. If you have chickens, you eat them. We had cows, chickens and hogs.
"Farm life isn't an easy life by any means, and you might not have an appreciation for it as a child, but now I look back on those days and remember how good they really were."
There was, of course, time for play as well, Chaney said. She remembered how her father built a baseball diamond on part of his property when she was a small girl.
Neighborhood children, both white and black, played together on that diamond even before integration of the county's schools took place, she recalled. They also played on John L. Batey's farm.
The games eventually grew into friendly inter-community rivalries, she remembered. Families would grill out and sell hamburgers and hot dogs while they watched games of baseball and softball.
"People would come from Eagleville, Milton, all of those places to play and to eat, and we would go to those communities to do the same," Chaney said.
Faith was also important in the small community. Sitting close to the Little Hope School was a Methodist church.
It was later torn down after the congregation moved to a newly constructed building on the same property.
Other newer changes to the community include the new Brown's Chapel Elementary School, which shares the name of its all-white school predecessor, Brown's Chapel School.
Though Little Hope School and the old church are gone, Chaney said the most important thing about her community has remained the same for as long as she's been there.
Chaney said she knows petty much all of her neighbors. Some are even relatives.
"We are still really tight-nit around here," she said. "There are some newly developed subdivisions in the area, but for the most part we all still know each other."
The community has continued to produce productive members of society, as well, Chaney added.
"There are good people here, and this community has continued to produce good, hard-working people for years," she said. "We have a lot of self-made people who have grown up here. Mechanics, barbers, teachers, you name it."
Chaney said it all likely goes back to values instilled on community members by the decades worth of good teachers who reached out and touched lives at Little Hope School.
"We learned to have visions, dreams and drive, to focus," she said. "Even if you never reach them, dream dreams and have a vision you want to excel to. That's what life is all about. Never think you can't do what you would like to do and be held back."