March 29, 2021, Susan Harber, The Daily News Journal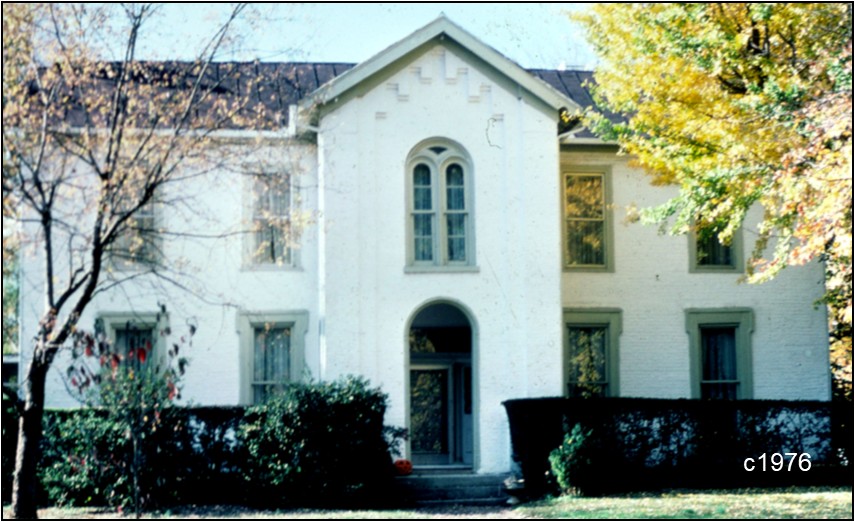 Uxor Hill was Renamed Bellwood and Stood Tall as Finest Home in mid-19th century in Murfreesboro.
Uxor Hill, known in Latin as 'Wife's Hill' was identified as a home obtained through the property of a wife. The brick home was a grand structure in Murfreesboro with a far-reaching historical presence. The early Classical Revival home, later identified as Bellwood, was built by Colonel Frank Burton and completed in 1813 after 13 years of meticulous labor. When standing on the porch of this special home, a magnificent view was ever-present of the hills and dale on the horizon. The maple trees on the property were stunning.
The edifice was constructed on property deemed as a land grant by the state of North Carolina to Colonel Hardy Murfree, who received 5,000 acres after the Revolutionary War. When he died in 1809, 600 acres southwest of Murfreesborough passed to his daughter Lavinia, who was wed to loving spouse Frank Burton. Hardy Murfree died with no will, yet the state legislature divided his property amongst his seven children.
Francis Nash Williams Burton was born on May 2, 1779 in Granville County, North Carolina and died on June 6, 1843 in Rutherford County. He is buried at the Murfreesboro City Cemetery today. Frank was the son of Colonel Robert Burton and Martha Williams of North Carolina. He graduated in 1799 from the University of North Carolina. In 1812, he was a teacher at Williamsborough Academy and later a rising lawyer in North Carolina. He served on the Board of the Female Academy in Murfreesboro.
Colonel Frank Nash Williams Burton married Lavinia Bremberry Murfree (1795-1881). Lavinia was born in North Carolina and died at age 85 in Kentucky. She is buried in the Old City Cemetery in Murfreesboro. Frank and Lavinia's first three children included Fanny, Hardy Murfree and Mary, who were born in Granville, North Carolina. The remaining children Robert, Frank, George Washington, Lavinia, Sally, Priscilla and Finie were born in Murfreesboro. Son John Williams Burton was attorney and mayor of Murfreesboro from 1860-1861. Hardy Burton served in the 24th General Assembly from 1841-1843 as a Whig. In 1850, Hardy was a United States Consul for St Thomas, West Indies and perished on this island.
The authentic brick family home in Murfreesboro was L-shaped with solid walls eighteen inches thick. The interior showcased hand-carved woodwork, and the floors were exquisite pine. The staircase displayed intricate scrollwork leading to three upstairs bedrooms; and a sideboard (still intact today) was a centerpiece of many sumptuous parties given in the large dining room over two centuries. A grand parlor was in prime form under an arched door. The kitchen was originally separate from the home.
When Colonel Burton died, his son Frank sold the home to prominent attorney and Judge James Monroe Avent in 1857. Avent wed Mary Williams Childress (1834-1894), daughter of Attorney John Childress, who was brother to Sarah Polk. Avent was the founder of Stones River Creamery and president in 1886. During the Civil War, the Avent family was forced to leave their beloved dwelling and travel South for their safety.
Later owners included Munford Jordan, L. D. Harrell, Charles Hawkins and Robert Bell, who renamed the property as 'Bellwood'. He added extensive upgrades, including a right wing. He also refurnished the home with elegant furniture.
Mary Katherine Murfree, daughter of Kate and Robert Trigg Bell, died in Murfreesboro in 2007, having lived in the family home Bellwood and farm on Southeast Broad. Her husband Dr. Matt Murfree served in World War II and practiced medicine in Murfreesboro. She was a great grandniece of Sam Davis, boyhood hero in Smyrna. Her son Attorney Matt Murfree died in November 2014. He was the great-great-great grandson of Colonel Hardy Murfree and Colonel Charles Ready, for whom Readyville was named.
Bellwood carries a longstanding torch of historical charm and served as a masterpiece in our community.