As published in the Murfreesboro Post, Ken Beck, April 3, 2011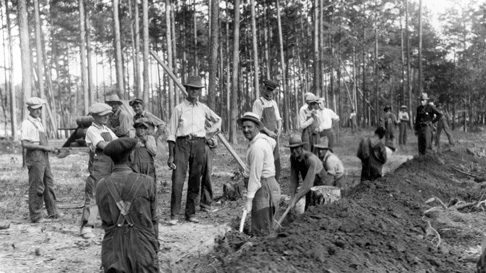 The most famous soldier of World War I, Tennessee born and bred Sgt. Alvin C. York, was a reluctant fighter and a humble hero. Yet most Volunteer State residents might be surprised to know his most personal legacy was a commitment to education.
And while the school he built in Jamestown, Tenn., York Institute, has been saved from demolition, the struggle to preserve and restore the structure remains an uphill battle.
Rev. George Edward York, the 87-year-old son of Sgt. York, will speak at 2 p.m. April 10 to the Mt. Juliet-West Wilson County Historical Society. He will discuss how his father's legacy is being preserved.
"On Oct. 8, 1918, Corporal Alvin Cullum York and 16 other men under the command of Sergeants Harry Parsons and Bernard Early were dispatched to capture the Decauville railroad near Chatel-Chehery in the Meuse-Argonne. After a brief firefight (nine Americans died in the melee) the confused Germans surrendered to what they believed to be a superior force," said Michael E. Birdwell, an associate professor of history at Tennessee Tech in Cookeville and the archivist of Alvin C. York's papers.
"In all 132 Germans were captured and delivered to U.S. Army headquarters by the seven survivors led by Corporal York. The army singled out York as the hero of World War I and presented him with the Congressional Medal of Honor. Upon his return to the United States, York found himself being wooed by Hollywood, Broadway and various sponsors who clamored for his endorsement. York turned his back on quick and certain fortune in 1919 and went home to Tennessee to resume private life and pursue a dream that consumed the rest of his life."
That vision was York Institute, and from 1925 to 1979, the school educated the youth of his home area of the Cumberland Plateau.
"Out of seven children that were raised to adulthood in my family, three of us, myself, my sister, Betsy Ross, and my brother, Andrew Jackson, received our diplomas from York Institute," Rev. York said during a recent phone interview from his home in Pall Mall.
"We were raised in a very humble home and taught that the most important thing in life was love for God and of people and helping people, and that is one thing my dad did all of his life, helped other people. He was a very unselfish person."
Instead of capitalizing on his military accomplishments, York, who only had a third-grade education, sought to build a school for his neighbors as he knew that a good education meant a brighter future.
"When I went out into that big outside world I realized how uneducated I was and what a terrible handicap it was. I was called to lead my people toward a sensible modern education," York wrote. "For years I have been planning and fighting to build the school. And it has been a terrible fight. A much more terrible fight than the one that I fought in the war. And so I head into the frontline and fight another fight. And I can't use the old rifle or Colt automatic this time. And it has been a long hard fight."
"His vision was not limited to the education of children from the remote Cumberland plateau region," said Birdwell. "He wanted to include interested adults as well. He set a tremendous example, for he reminded them when he spoke, of his own former limitations, but that by reading, thinking and asking questions, he broadened his own understanding of the world."
In 1925, the farmer-soldier-national hero used $12,000 he raised during speaking tours and bought 400 acres, including the local Poor House, where students were housed and classes were held while the new building was being constructed on a site one mile north of Jamestown near the recently constructed Highway 127.
On Sunday Jan. 16, 1927, the Nashville Banner announced the launching of a $100,000 fund-raising effort to insure York Institute's completion. Supported by the recently organized American Legion, each post promised that it would deliver one dollar per member.
After a series of legal challenges, York opened the new school in the fall of 1929, which coincided with the onset of the Great Depression. In 1931 the state ended all appropriations for bus transportation, effectively crippling the struggling Institute. When York went before the county court and asked for help, the court refused. This forced York to secure a mortgage on his farm so the school could hire drivers, buy buses and even pay teachers' salaries, and it was an act of desperation he took again in 1935, which exemplified his devotion to the school.
Sgt. York presided over every graduation ceremony until his stroke in 1953, but continued to make regular visits to the school up into the late 1950s, until he grew too frail. When the building was replaced with a more modern facility, neglect took a serious toll on the venerable structure.
"The foundation he helped dig and walls he helped build remained solid, though bricks were falling from its façade," Birdwell commented, observing that "glass remained in few windows, and birds nested in the building's rafters. The building which should have been a monument to that achievement, sat as a derelict shell of what it should be."
The York Agricultural Institute building, which was slated for demolition in 2008 by the state, was the subject of numerous news stories throughout the country and several emotion-filled public hearings on Capitol Hill in Nashville.
After months of struggle, the State of Tennessee agreed to turn over the building to the Sgt. York Patriotic Foundation, a 501c3 organization formed 15 years ago by descendants of Sgt. York, including his three surviving children, and many devotees of the reluctant young World War I soldier from Pall Mall, Tenn., whose resolve in battle brought him world-wide recognition.
More than $1 million has been
Continued page 20
spent to save the building, but $4 million to $5 million is the goal for returning the structure to an educational facility, as Sgt. York wanted, said Claudia Johnson, executive director of the Sergeant York Patriotic Foundation (SYPF).
"The Board agreed that the future of the historic building will best honor the educational legacy of Sgt. York if it becomes a multi-use educational facility available to meet a variety of community needs," Johnson said.
Those needs include classrooms and laboratories, a WWI research center to serve scholars and students throughout the world and corporate headquarters for the Sergeant York Patriotic Foundation. The SYPF is currently seeking proposals from qualified engineering or architectural firms experienced in historic preservation projects.
"If each veteran's organization would commit $1 per member at this time, the building could be saved, and my father's legacy would live on for the continued education of future generations of young people," noted Rev. York.
Rev. York served in the U.S. Army during World War II. An ordained minister of the Nazarene church, he was pastor at Fatherland Street Church of the Nazarene in Nashville from 1957 to 1976. For 20 years he was employed by the State of Tennessee's Human Services Division as a caseworker for abused and neglected children.
"We are inviting any member of the public who is interested in the story of Sgt. York to join our membership for this special meeting," said Pat Everette, president of the Mt. Juliet-West Wilson County Historical Society, which is in the midst of its 30th year.
One of the reasons that Everette contacted Rev. York was because of the stories she heard about Sgt. York from her mother while growing up in Nashville.
"I learned about Alvin York and what he was famous for," said Everette. "I had visited the museum in Jamestown a couple of times and was absolutely fascinated with the York history. I've been to the house and the gristmill, and the last time I went up there, we went to his gravesite."
Rev. York will address the American Legion statewide convention in Nashville near the end of June and recently returned from Kansas City where he spoke at a tribute to Frank Buckles, the last WWI surviving veteran, who died Feb. 27 at the age of 110.
Born in 1923, George York grew up in the country with a big family and lots of relatives. He recalls that the family table was often surrounded at mealtime by strangers from far and wide.
"We had a table that seated 10, and it never was the one table, but two or three tables. People would drop by, relatives, men from New York. Dad said, 'Come in and have dinner with us.' It was just country grub: pinto beans and corn bread and potatoes, but we fed a lot of people. It was just like country junction at our house, night and day," reminisced York, who lives in a log cabin overlooking the farm.
"My dad never talked to the family about any of his business. I learned about what my dad did through my mother. If he was ever worried about anything, you never knew it. I never knew about him mortgaging the farm to pay the teachers at York Institute until my mother told me all about it. He always kept his business to himself. He had a lot of problems along the way financially, but he didn't want to bother the family."
Living within walking distance of the family home place and the York General Store, he often mingles with visitors, saying, "I was over there at the store the other day and met a bunch of tourists. One of them said, 'I've seen your dad's movie a hundred times and never get tired of watching it.'"
When asked about the accuracy of the famous film, "Sgt. York," which stars Gary Cooper as York, Rev. York answered, "I don't think any movie made is 100 percent like it happened, but it was as true to life as they can get it."
As for his mother, known as "Miss Gracie," Rev. York said, "My mother was a wonderful, Christian lady. She never grumbled or complained. She was a humble woman.
"Dad was a very humble person, genuine and a very strict disciplinarian. What he said, he meant. You could take it for granted. That was it. It was not unusual for him to cut a switch from a maple tree and give us a little whipping.
"My dad read from the scripture and led prayer every night. Sometimes visitors would kneel with us, but Dad always had family prayer every night before we went to bed."
As for the most important lesson that his parents taught him, York said, "That there is more in life than things, and that things and money didn't bring happiness. The most important thing in life is a life of service to God and then to country. There was a motto hanging in our house, and it said 'God is the unseen guest at the head of every meal.'"
Hear Sgt. York's son
Rev. George Edward York, the 87-year-old son of World War I hero Sgt. Alvin C. York, will speak at 2 p.m. Sunday, April 10 at a meeting of the Mt. Juliet-West Wilson County Historical Society.
The event, open to the public, will be held at Rutland Place, 373 NW Rutland Road.
In advance of the meeting the 1941 movie "Sgt. York," starring Gary Cooper, will be shown at noon Wednesday at the Mt. Juliet Senior Activities Center, 2034 N. Mt. Juliet Road.
NOTE: A portion of this article came from the essay, Educational Legacy, by Michael E. Birdwell, PhD, Associate Professor of History at Tennessee Technological University and Archivist of Alvin C. York's papers, and is used by permission.