May 29, 1988, The Daily News Journal, John Howze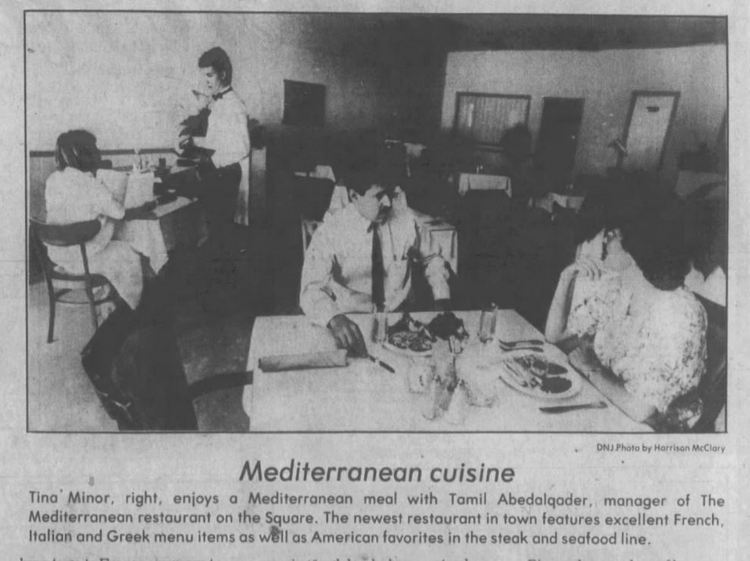 Mike Skordallos and Peter Pisonos have share the adventures of life since they were childhood friends on the island of Cyprus in the Mediterranean.
They attended school and high school together, both entered the Cypriot military at the same time and served together, and both followed their military service with immigration to America.
Skordallos has been here four years and is almost ready to complete his degree in management at MTSU. Pisonos has been here long but he is already in love with America.
Now they have opened Murfreesboro's newest restaurant, The Mediterranean, on the west side of the Square in downtown Murfreesboro, and good reviews are already coming in.
The Mediterranean, which seats 50-60 people, specializes in Mediterranean are foods, including French, Greek and Italian menu items.
The restaurant has a quiet atmosphere that is enhanced by its view of the county Courthouse just across Maple Street.
Appetizers include shrimp cocktail, Mushrooms romain, and egg mayonnaise with caviar. Fresh chicken and tomato soups are availabe, as well as a variety of salads.
Entrees come with fresh baked bread, soup salad and choice of rice pilaf, baked potato, french fries and buttered vegetables or cole slaw.
"Our main items are French," said Skordallos. "Now people don;t have to go to France any more to get excellent French cooking.
"It's something new for the city, something different," he added. "From people who have already tried our food we have excellent comments. We won;t let a customer leave here and be unhappy. He must be satisfied."
Judging from menu items and their prices, that shouldn;t be too difficult.
In addition to the traditional American steaks and seafoods, the Mediterranean offers a variety of soups and salads. It also has such delights as lamb chops St. Germain (fresh lamb chops sauteed and served with tasteful cream sauce with mint leaves), mousakka (fried potatoes, eggplant and zucchini covered with Bolognaise sauce) and saganaki (sauteed shrimp with herbs and feta cheese).
"We avoid flour, which is heavy for the stomach, and we use clarified butter, which is light and clear," Pisonos said. "In addition, we make everything from scratch. This is to maintain freshness and quality. We also use only high-quality beef and other prime ingredients."
Pisonos knows whereof he speaks. A hotel management school graduate, he studied pastry and other French cuisine for three years.
The prices start at $2.95 for lunch (11:00AM – 2:00PM) and $6.95 for dinner, Skordallos said.
The atmosphere is quiet and reserved. White tablecloths and candles accent the cool atmosphere and enhance the pleasure of dining, Skordallos said.
"We expect everybody to come and try our food because it's something different," said Pisonos. "We believe almost everybody will ike it. It's a good feeling, giving people something they like and can appreciate."
The two men also cater on occasion and will make dishes on special order for those who want something special. Carry out orders are also possible at lunch time each day, they said.
In additional to expectations of success in their restaurant venture, both men say they have learned a lot about democracy since coming to America. They like what they have seen.
"I am very impressed with this country," said Pisanos. "We have democracy i nmy country but here it works better."
He is not sure why that is so, but his friend Skordallos agrees.
"Here you have a chance to prove yourself," he said. "That's something I appreciate. I could have made it into the restaurant business in Cypress but it would have taken more time. Here you can prove yourself quicker. Thata's something I appreciate in the United States."
The Mediterranean is open 11AM til 10PM Monday through Saturday, and closed on Sunday.
Though the menu doesn't currently offer it, beer and wine should be available as soon as the restaurant has applied for a license to serve them.
"We believe a nice wine goes with a nice dinner," said Skordallos. "French cuisine and win go together."
The Mediterranean does not intent to have a bar, the two men said, but it does have in mind later expansion to have more restaurant space on the second floor or the building.