January/February Froe Chips, Written by Susan Harber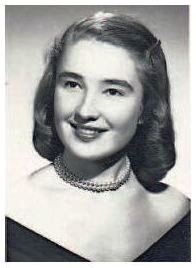 As with so much of life, familial bonds are the essence of our time on this earth, in which some humans live well beyond a span of 100 years. The small core of kin is our ultimate heartfelt circle, whom we affiliate our time near or far away. Our sorrows, hopes, and dreams comprise our historical ties within the breadth of a lifetime. Families culminate in many beautiful forms, including blood relations. The unconditional and supportive influence and care of a family member is an exceptional gift forevermore. In my own chapter of time, the small family circle I dwell within is embedded foremost in the strength and great love for my mother.
Judith Ann Johns Rogers, whom I refer as 'mom', has been my biggest inspiration of a lifetime. She has always sought the 'right side of life', and she is my biggest role model ever. At a young 81 years old, Judy has been the mastermind of these olden stories I pen to paper for the Daily News Journal. Judy grew up in a small and close-knit community of Old Jefferson where everyone knew their neighbor and were in unison with love and deep friendship. These articles I compose are overwhelmingly due to mom's brilliant remembrances of an early day in our county. She writes down nothing and keeps these monumental events of our county history in her head, while I diligently scribe each word. I could not be a writer without her immense contributions to local history. Judy can catch an error in a split second and set a story back on course.
Judy grew up on Lamar Road in Smyrna and was the daughter of Glendon and Emily Randolph Johns. Emily moved to Smyrna from Nashville at age 13 in 1933. She had been raised a city girl, yet her father John Randolph, a handsome man, 'moved to the country' for better health, as he had an ongoing bronchial and heart conditions. John was a skilled mechanic for Cadillac in Nashville yet soon opened a shop in Smyrna. Emily skipped a grade and graduated early, after participating in plays at Smyrna High. She designed and sewed her own dress for graduation. As a farmer's wife, she would soon learn to toil in a large garden, butcher hogs and cut up chickens. Her life is quite amazing start for finish. Emily created real life in a natural, earthy form for her growing family. She sewed all clothes by hand and quilted, crocheted, knitted and procured and prepared delicious foods from scratch that from a garden, cows, chickens and hogs. Emily cooked 30 chickens at a time but was not fond of feathers and assigned mom the chore of plucking feathers. As a young girl, Judy witnessed her mother shucking 500 ears of corn, harvested over the summer by her father, in a bathtub. Judy helped shuck and silk and later cut the corn for freezer. The beef provided by the farm created appetizing roasts all year. Emily's delicious recipes recorded for a new generation from 'Nanny' were not easy to follow, as ingredients included 'a little of this and that.' She was president of the Home Demonstration Club and experienced great delight in sharing new dishes. Emily carried a full time position in the home and took her job seriously.
In the Old Jefferson community, Judy was surrounded by adjoining farms of uncles, aunts and cousins, and life was quite magical and carefree in her childhood. Her whole world was church, school and community, and she did not venture far into the adjoining districts of Smyrna.
My grandad Glendon Johns was five years older than Emily Randolph, and he was a lifelong resident of Smyrna. His mother Helen Johns attended Rockdale School until 8th grade. The headmaster was pleased with her progress and convinced her to stay on two more years and study Geometry and Latin. Helen's father Andrew Harvey Smith served as a Confederate soldier at age 20 in Company 1, 7th Tennessee Brigade. Helen was the grandmother of longtime county historian Ernie Johns, who was Judy's first cousin. I knew Mama Johns as a 'quilter extraordinaire and baker of decadent cookies.'
Emily and Glendon met at a party introduced by Emily's cousin Evelyn Waller in Smyrna. At the time, young people would have parties in each other's homes. Some friends of my grandparents lived in the Sam Davis Home before conversion to a museum, and they were invited to parties in this historical home. Glendon later built a replica authentic cabin behind the home during the winter months.
Glendon welded a special tractor seat to carry Judy to the fields, and this was her prime throne as a country girl. Emily would wake Judy early in the morning for these father/daughter passages, and she would talk and talk to him, while he patiently listened.
Mom's large clapboard childhood home still stands on Lamar Road after being moved and renovated. The original home place had a well and vinyl bucket for a water supply. The Sulphur water was reserved for cows. The only open fire cooking was hog's fat made into lard. There was a gravesite at the rear of Glendon's farm, and folks would come by see the stones on a regular basis.
Jefferson Springs, a thriving mineral water and spa resort, was nearby; yet my grandparents were not fond of every aspect of this establishment. Emily conveyed to her three children' never go near the Dance Hall in Jefferson Springs' and it was all understood.
Summers were central to both hard work and fun. Cousins were welcome and visited for weeks at a time. Jefferson School housed grades 1-8 and was known for extraordinary instruction from gifted and devoted teachers. The school was the center of community activity for pie suppers, cake walks, movies and elections. Emily was a pioneer with the homemade food program, along with other mothers, and the parents were strongly bonded for education. This longstanding school was comprised of two grades within each individual room. Thus, first and second graders were bundled together in one room, as well as seventh and eighth graders. The younger grade closely observed the higher grade to emulate success by attaining homework on an advanced level. The incentive to move forward was unending. Judy rode the crowded and noisy school bus for an hour; yet, she this was a prime time to work on lessons.
Sewing was a real passion for Emily Johns, whose two daughter today are wonderful seamstresses. She washed flour sacks and created wonderful shirts. In high school, Judy won a contest for a dress she created and was invited to a hotel in Chattanooga as her prize. Over my lifetime, she designed a beautiful wardrobe for me of lovely coats and dresses and suits.
The entrance of World War II and the construction of Sewart Air Force Base were monumental changes in the lives of Rutherford County residents. The maneuvers near mom's home were a tremendous transition within daily living. Large army trucks were parked in her yard right up to the window. Her family heard continual shots of practice shooting. Furthermore, a bridge over Spring Creek collapsed from the weight of an army vehicle. As a result, Judy and two siblings were sent to stay with her grandmother Susie Randolph of Old Jefferson during the week while attending school, and she was home on weekends. Her father Glendon would wade into the water on Friday and meet the bus near Spring Creek. His children, along with other neighboring students exiting the bus, were carried on his shoulders across the creek. This routine continued while the bridge was repaired.
The soldiers were often right upon Judy's front porch. They had small rations and were hungry. Emily Johns said 'if there is a country boy in your midst who will wring the neck on a chicken, I will fry this for your supper.' And they ate well.
A real tragedy during this era was the crash of a military plane and pilot's death near Judy's farm A Georgia family knocked on her door wanting to see the site where their son perished. They gave beautiful silk parachute material to Emily, who stitched a dress and blouse from this material for her daughters.
Judy has a vivid memory of World War II ending. Emily heard the news on the radio and sent mom (barefoot) to the back farm field to relate the news to her father.
On D-Day (June 6, 2018), the unthinkable happened when my grandad at age 33 lost his arm while he was cleaning a corn picker. He was transported quickly to a hospital and was the first patient in Rutherford County to be administered penicillin. Doctors and nurses were not in abundance with the advent of World War II in our county. At the time, Emily oiled his bandages and was his excellent nurse. Judy was 8 years old when this event occurred. Glendon was left-handed and lost his left arm. When my grandmother Emily resided at Adams Place (Murfreesboro) in later years, Judy slept on a couch beside her. Emily related that Glendon never complained one time on losing his arm and went right on with his life making day as good.
Old Jefferson Church of Christ was central to Judy's upbringing. She was baptized in Stones River near the original church in Old Jefferson. Emily awakened early on Sunday mornings and cooked fried chicken and churned homemade ice cream to enjoy for lunch. When Judy was 16 years old, a new minister Paul Rogers was hired. Only 18, he was a student at David Lipscomb College and from a far away city of Birmingham, Alabama. Emily extended invitations to all visiting ministers to 'come home and have lunch with me.' Thus, a romance began followed by marriage when Judy was 19 years old. She moved on to become an active and beloved minister's wife for 49 years.
The bane for the Old Jefferson community was the constant issue of flooding. When Stewarts Creek rose, Glendon would move his pigs under the house. The problem was never ending and resultant of the break-up of a community. The scattering of lives and deep friendships remains in the hearts and minds of descendants today. The influx of Percy Priest Dam by 1966 removed multiple homes in Old Jefferson and affected families whose ancestral roots dated back to the 1800s. The irony is that Glendon's farm was never covered by water. Glendon and Emily relocated to Wilson County and purchased a large farm where my grandad labored until older age. He made new friends in a new environment and a new day, yet he never forgot his deep love for Old Jefferson.
"Memories of Mom" is my own pilgrimage in time and a small slice of the many recollections of family structures within our county. This article is devoted to my lovely niece Rebecca Bracey, a new pharmacist in Smyrna, who had the brainstorm to assemble the framework of mom's life. The Johns were a family of honor and learned to use their hands to prosper and their skills of listening, wisdom and reasoning to culminate a life of goodwill and happiness.