February 19, 2020, Jason Reynolds, The Murfreesboro Post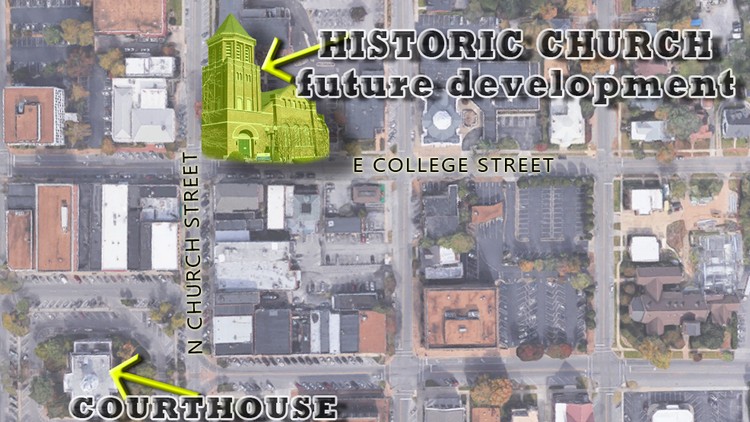 The Murfreesboro Planning Commission on Wednesday scheduled a public hearing to convert the old Franklin Synergy Bank downtown into a mixed-use development with a hotel, parking garage, residences and more.
The project named One East College, will redevelop the bank building while preserving the historic steeple of the old First United Methodist Church. The project encompasses an entire downtown block on North Church-North Spring-East Lytle-East College streets. There are four buildings: the church steeple, a 12.5-story parking garage/residential building, hotel, and office/retail building.
The planning commission will hold a public hearing will be held March 11.
The City of Murfreesboro is selling the property to developers with the condition that the church tower be preserved, said Matt Taylor of SEC Inc., the applicant's engineer.
If the planning commission and the city council approve the final plans, construction could start in June or July, said Brian N. Davis, one of the developer's representatives. Construction would take about two and a half years.
During that time, there will be some partial or even full road closures at times, Davis told the planning commission.
The church steeple will be either an event center or restaurant, the development team said, although an event center is most likely.
The proposed development would include one 56,215 square-foot, 4-story mixed use building for retail, restaurants, and a small police precinct on the street level and offices on the upper three floors, city documents show. The development also includes a 6-story,110-room hotel building with 54,273 square-feet of area including some retail on the first floor.
The parking garage building is 8.5 stories, including one parking level below grade, and consists of 692 reserved parking spaces and 200 public parking spaces. The garage will be surrounded with five stories of residential dwelling units with an additional four stories of penthouse residential units on top. There will be a total of 156 residential units, the majority being one-bedroom.
Amenities also include a gated dog and gated promenade with green space and seating area for residents between the retail/office building and the residential building. Public amenities would include a public outdoor plaza and bicycle parking racks.