May's Monthly Meeting will be held at MTSU's Gore Center, Monday, May 15, 6:30PM
How many of us have NEVER visited the Gore Center located in the old Todd Library on MTSU's campus?  Please, show of hands?  I'll be the first to admit – I have never visited the Gore Center…
Guess what – Kent Syler and Dr. Louis Kyriakoudes have promised the RCHS plenty of parking, right at the front door of the Gore Center along with a tour of this most incredible asset to our community.
If you haven't visited the Gore Center, maps/aerial/satellite images are provided below.
MTSU is out-of-session thus parking will NOT be an issue..
When? Monday, May 15, 6:30PM
Where? MTSU's Gore Center located in the old Todd Library, across from Peck Hall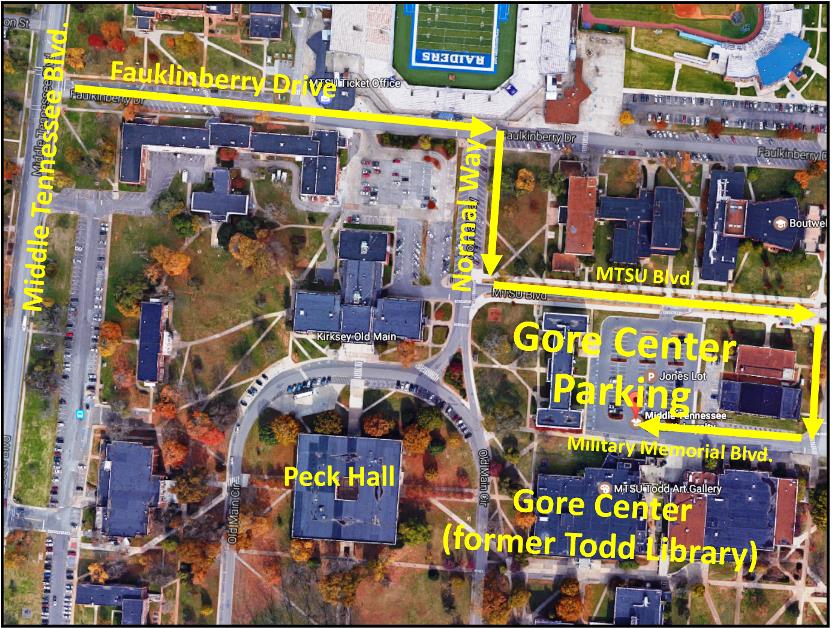 ---
Rutherford County Historical Society Membership Drive!
Preserving and promoting OUR local history is the heartbeat of the Rutherford County Historical Society.  Yet, our membership is the lifeblood of the Society.
Our membership is a strong and robust group of committed volunteers, unpaid in our efforts to share our local history.  The strength of our membership grows each month as a new generation of 'local historians' come to realize the value of a $25-a-year family membership.  Our vibrant membership has helped the RCHS become the premiere local historical society in middle Tennessee.
Join the RCHS  and receive a copy of 'Pictures and the Stories they Tell' – a $45 value – as a token of our appreciation.
---
The Whittler's Club is returning to Murfreesboro!
Who remembers sitting around the Square, whittling on a piece of Rutherford County cedar, and listening to the latest gossip and stories?
The Whittler's Club is making a return this Saturday morning at the historic Ransom School House, 717 North Academy Street (Murfreesboro) from 9AM- noon.
Bring your whittling knife, pocket knife or even a hawk-billed knife – we're going to whittle some Rutherford County cedar and swap stories just like the old days!
---
Our Rutherford County Archive
The Archives' staff can assist you with researching county government records, genealogy requests, historical property information, class assignments, and so much more.
Information and/or requests concerning actual copies of court records may be obtained from the Rutherford County Archives, 435 Rice Street, Murfreesboro, TN 37130, (615) 867-4609 or http://www.rutherfordcountytn.gov/archives/index.htm
---
Rutherford County Historical Society Officers:
President: Frank Caperton
Vice-President: Margie Weatherford
Secretary: Bonnie Black
Treasurer: Gwendolyn Hopkins Boyd
Program Chairmen: Dr. E. C. Tolbert
Editor: Susan G. Daniel
Web Master: Frank Caperton
Board Members:
James "Toby" Francis
Vicki Norton
Greg Tucker
Lisa Ramsay
Joyce Johnson
Rutherford County Historical Society Chairmanships
Museum Coordinator:  Gwen Boyd
Chairman of Committees:  Jeff Adcock
Landscape Chairman:  E.C. Tolbert
Publication Chairman:  Vicki Norton
---