Ice Cream Social!
Saturday, July 19, 2014, 2PM-4PM – Ice Cream Social at Stones River Manor, 205 Haynes Drive (opposite State Farm off Memorial Blvd.)
You are asked to bring cookies or cupcakes. Everything else will be furnished. Kirk Mason, Administrator of Stones River Manor will be the speaker. This meeting replaces the regular meeting scheduled for July 21.
______________________________________________________________________________________
John Seigenthaler, longtime Tennessean
editor, dies at 86
Do you recall our annual Christmas Banquet circa 2003 or 2004?  Our speaker that year was John Seigenthaler.  He spoke of President James K. Polk, a Tennessean with Murfreesboro connections.
Please read the Daily News Journal regarding his passing by clicking here.
______________________________________________________________________________________
Oaklands Mansion, Friday, August 1, 5:30PM – Author Shirley Farris
Jones
Our very own Shirley Farris Jones will be speaking at the Oaklands Mansion, Friday, August 1, at 5:30PM.
As the Civil War unfolded, Murfreesboro became hotly contested by Confederate and Union forces. Both sides
occupied the town for significant periods, with power changing hands as the fighting raged. Punctuated by events like the wedding of General John Hunt Morgan and Martha Ready, wartime Murfreesboro saw no shortage of drama. Through five decades of research, the program "Martha Ready Morgan, From Wife to Widow in 630 Days" comes to life. Author and Civil War historian Shirley Farris Jones will recount the compelling story of General John Hunt Morgan and his bride, Mrs. Mattie Ready Morgan in the elegant parlors of Oaklands Mansion on Friday, August 1st at 5:30pm.
Shirley Farris Jones, a lifelong resident of Murfreesboro and graduate of Knox Business College, is a Civil War historian and community activist, retired from Middle Tennessee State University where she had been on staff for more than thirty years. An active author, Shirley is also a founder of the Middle Tennessee Civil War Round Table, former president of the Rutherford Historical Society, the Rutherford County Chapter of the Association for the Preservation of Tennessee Antiquities, the Friends of Stones River National Battlefield and the Martha Ready Morgan Chapter of the United Daughters of the Confederacy.
Admission to Jones' discussion is $10.00 per person with reservations required. Tickets may be purchased by phone, on our website, or in person at Oaklands' Visitors Center. Copies of Jones' book, The Un-Civil War in Middle Tennessee and Murfreesboro in the Civil War, which was co-authored by she and Dr. Michael Bradley are available in the Oaklands Museum Shop.
In honor of Mattie Ready Morgan, her gown and undergarments will return to exhibition in Oaklands Mansion for Jones' discussion and will remain for a brief time on exhibit during museum tours Monday-Saturday 10:00am-4:00pm and Sundays 1:00-4:00pm.
Oaklands Mansion, located at 900 North Maney Avenue in Murfreesboro, Tennessee is a nationally registered historic landmark that reflects a time of prosperity in the Old South, as well as the hardships suffered during the Civil War. For more information contact Oaklands at(615) 893-0022 or email info@oaklandsmuseum.org.
__________________________________________________
NEW: Rutherford Ramblings by Greg Tucker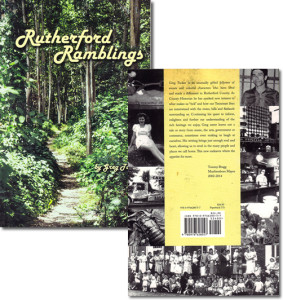 This is the latest stories and tales from Rutherford County that our County Historian has collected.  The book is now available for purchase.
"Rutherford Ramblings" by Greg Tucker. Here are the latest stories and tales from Rutherford County that our County Historian has collected.  Cost: $24 + $6 shipping and handling.  Send check made to RCHS, P. O. Box 906, Murfreesboro, TN 37133-0906.
---
"LETTERS TO MARY," a new publication from the Coffee County
Historical Society
The latest publication from Coffee County Historical Society is Letters to Mary, the Civil War Diary of Dr. John Kennerly Farris.  Dr. Farris of Hillsboro TN served as a hospital steward and assistant surgeon in Company I of the 41st Tennessee Confederate Infantry and wrote letters home to his wife Mary in the form of small diaries, which he kept until an opportunity arose for him to either mail them or send them home by someone who was traveling to Coffee County.  The diaries follow his journey through that terrible war, encompassing events of camp life, troop movements, battles, tribulations, a week's list of menus for camp food, and even formulas for some of his medical treatments.  It is an extremely comprehensive look at that period of our history, as Dr. Farris was a meticulous record keeper, who included lists of soldiers who served in various units, those who were killed or wounded, and unit reorganizations.  These records contained many Coffee County names.  His thoughts are alternately sobering, brave, hopeful and at times lonely, as he missed his family deeply.  He even penned some lines of poetry during his capture and imprisonment.
The book was originally written by Dr. Farris's great-granddaughter, Shirley Farris Jones of Murfreesboro, Civil War historian, community activist, and author of four books about the Civil War, who inherited the diaries handed down in the family.  The book was previously published about twenty years ago, but this second printing has a great deal of added material, including many more photos and illustrations, and offers an amazing glimpse into the difficulties of life during that time from a Coffee County resident's point of view.  The 180-page book sells for $20 plus $3.50 shipping and handling if the book is to be mailed.  To obtain the book, contact Shirley Farris Jones at 615-337-0489 or by email at SJns422@bellsouth.net.   The book can also be purchased through the Coffee County Historical Society at 931-728-0145 or by e-mailing cchs1969@att.net.  The Historical Society office is open Wednesdays and Fridays from 9:00 a.m. to 1:00 p.m. in the historic courthouse on the square in Manchester.
---
Ransom School House is open on Saturday Mornings
The Ransom School House is now open on Saturdays, 9AM-12AM (noon).  If you would like to come and do research using our publications, purchase any of our publications, or just take a tour of the 1920s classroom and the building itself, someone will be there to greet you and assist you.
We also need members to greet visitors. For further information or to sign up, contact: Gwen Boyd – 895-0028
Please tell your friends to visit the Ransom School House at 717 North Academy Street soon!
---
RCHS Publications 1-39 are now available online!
The Rutherford County Historical Society put out publications of the county's history from the first year the Society was formed.  During the first years two publications a year were produced and available to dues-paying members. The publications were about 80-100 pages in length.
Later because of printing costs, there was just one publication per year; then every other year, until Publication 39.  Frow Chips as a 10-page newsletter/history periodical which began in 2003 replaced these publications.
Publications 1-39 were to be mailed to members who had paid dues, which proved to be expensive and mailing was discontinued, and is why we still have some of them on hand in our storeroom at the Ransom School Museum. Some of Publications 1-39 are out of print, but we still have others which can be purchased for 50¢.  MTSU's digital library has made all these publications available on-line at:
http://digital.mtsu.edu/cdm/landingpage/collection/rchshttp://digital.mtsu.edu/cdm/landingpage/collection/rchs
---
Our Rutherford County Archive
The Archives' staff can assist you with researching county government records, genealogy requests, historical property information, class assignments, and so much more.
Information and/or requests concerning actual copies of court records may be obtained from the Rutherford Co. Archives, 435 Rice Street, Murfreesboro, TN 37130, (615) 867-4609 or http://www.rutherfordcountytn.gov/archives/index.htm
---
RCHS Chairmanships

GWEN BOYD – Museum Coordinator
SANDRA CAMPBELL – Membership Chairman
JEFF ADCOCK, Hospitality Chairman and Chairman of Committees – contact (615) 394-1040
JONATHAN FAGAN – Maintenance Chairman
E. C. TOLBERT – Landscape Chairman
VICKI NORTON – Publications Chairman
---