Monday, June 19, 2017, 7PM, Rutherford County Archive, 435 Rice Street
Speaker: Gene Andrews, will speak on the alleged "Fort Pillow Massacre."  The Battle of Fort Pillow, also known as the Fort Pillow Massacre, was fought on 24 April 1864 on the Mississippi River near Henning, Tennessee.  The Battle ended with the "massacre" of Union Troops, many of whom were African American soldiers, who were said to be surrendering to General Nathan Bedford Forrest's troops.  Was it really a massacre?
---
'Coffee and Conversation', each Saturday morning, 9AM-noon, Historic Ransom School House, 717 North Academy Street, Murfreesboro
'Coffee and Conversation' continues to be an unqualified success at the historic Ransom School House each Saturday morning from 9AM till noon.
We need volunteers to greet people and discuss the history of our wonderful county – no experience necessary.  Don't just leave it to the RCHS officers to do this job.  This is your Society and it needs your help.
Call, text or email Margie Weatherford – benmargie@bellsouth.net or 615-217-7875 and volunteer on a Saturday morning!
---
Rutherford Reflections is out!
Yes, the fourth (and latest) installment of Greg Tucker's exceedingly popular series relating to Rutherford County history is available at the Ransom School House Museum, 717 North Academy Street, Murfreesboro, Tennessee.
Come purchase you copy each Saturday morning between 9AM-noon (unless otherwise noted) for only $20.00 for members, $24.00 for non-members.
By the way, did you know membership in the RCHS is only $25 a year?  We'll even include a copy of our popular 'Pictures and the Stories they Tell', a $45 value, as an added bonus.
I have a better idea: join the RCHS for $25, THEN purchase a copy of 'Rutherford Reflections' for only $45!!!(*) for both!  (Click here for details)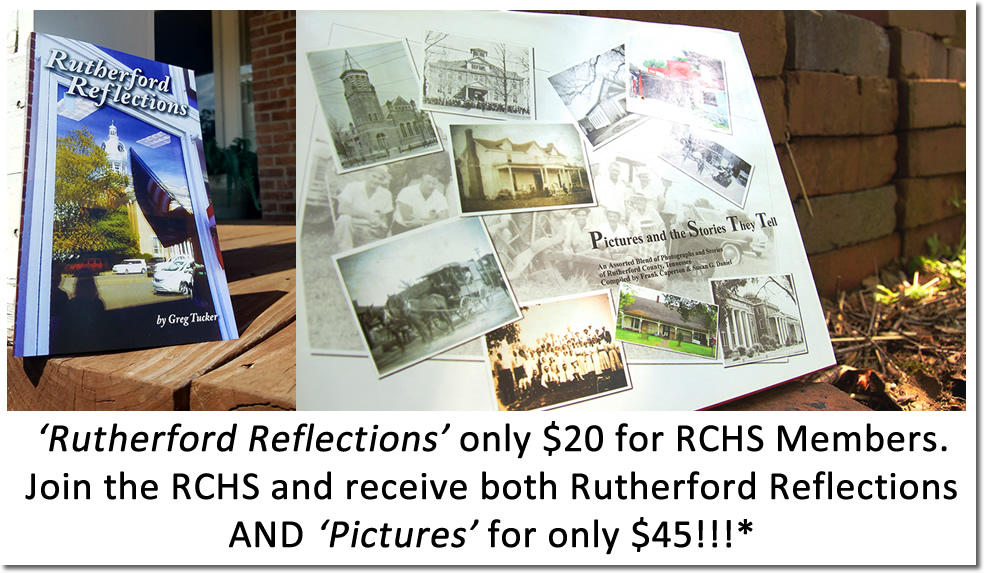 ---
Our Rutherford County Archive
The Archives' staff can assist you with researching county government records, genealogy requests, historical property information, class assignments, and so much more.
Information and/or requests concerning actual copies of court records may be obtained from the Rutherford County Archives, 435 Rice Street, Murfreesboro, TN 37130, (615) 867-4609 or http://www.rutherfordcountytn.gov/archives/index.htm
---
Rutherford County Historical Society Officers:
President: Frank Caperton
Vice-President: Margie Weatherford
Secretary: Bonnie Black
Treasurer: Gwendolyn Hopkins Boyd
Program Chairmen: Dr. E. C. Tolbert
Editor: Susan G. Daniel
Web Master: Frank Caperton
Board Members:
James "Toby" Francis
Vicki Norton
Greg Tucker
Lisa Ramsay
Joyce Johnson
Rutherford County Historical Society Chairmanships
Museum Coordinator:  Gwen Boyd
Chairman of Committees:  Jeff Adcock
Landscape Chairman:  E.C. Tolbert
Publication Chairman:  Vicki Norton
---