Longtime RCHS Member Tom Brown passed away
Thomas Bearden Brown, 90, of Murfreesboro, Tennessee, passed away on May 14th, 2016. Visitation will be held at 4:00 p.m. – 8:00 p.m. on
Tuesday, May 17th at Woodfin Memorial Chapel. Funeral services will be held at 11:00 a.m. on Wednesday, May 18th at First Baptist Church.
Please click here for the full obituary.
---
Please enjoy photos from our recent Show and Tell!
Please click on the pics below and enjoy the pics from the recent successful and fun RCHS Show and Tell at Murfreesboro's Carriage Lane Inn and Reception House Monday, March 21, 2016.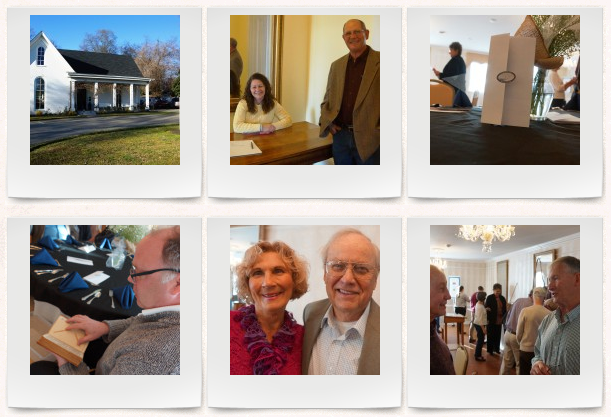 ---
M
onday, April 18, 7PM,  Rutherford County Archive Building, 435 Rice Street, 
Murfreesboro
Professor Virginia Donnell of MTSU's Deptament of Theater and Dance has assembled the attire which would have been worn by a circa 1920 school teacher.  She will tell us about her research into the fabrics and style used, and show us the completed ensemble which will be placed on permanent display in our Museum's school room.
---
RCHS Logo Items
Did you know the Rutherford County Historical Society is offering logo items for sale?  Ask your friends to join the Society so they too can enjoy the benefits of membership while supporting our local history.
Currently these items are not available for purchase online so be sure to attend Monday night's meeting and/or visit the Ransom School House Museum Saturday mornings from 9AM-noon.
---
Ransom School House is open on Saturday Mornings
The Ransom School House is now open on Saturdays, 9AM-12AM (noon).  If you would like to come and do research using our publications, purchase any of our publications, or just take a tour of the 1920s classroom and the building itself, someone will be there to greet you and assist you. We also need members to greet visitors. For further information or to sign up, contact: Gwen Boyd – 895-0028 Please tell your friends to visit the Ransom School House at 717 North Academy Street soon!
---
RCHS Publications 1-39 are now available online!
The Rutherford County Historical Society put out publications of the county's history from the first year the Society was formed.  During the first years two publications a year were produced and available to dues-paying members. The publications were about 80-100 pages in length. Later because of printing costs, there was just one publication per year; then every other year, until Publication 39.  Frow Chips as a 10-page newsletter/history periodical which began in 2003 replaced these publications. Publications 1-39 were to be mailed to members who had paid dues, which proved to be expensive and mailing was discontinued, and is why we still have some of them on hand in our storeroom at the Ransom School Museum. Some of Publications 1-39 are out of print, but we still have others which can be purchased for 50¢.  MTSU's digital library has made all these publications available on-line at: http://digital.mtsu.edu/cdm/landingpage/collection/rchshttp://digital.mtsu.edu/cdm/landingpage/collection/rchs
---
Our Rutherford County Archive
The Archives' staff can assist you with researching county government records, genealogy requests, historical property information, class assignments, and so much more.
Information and/or requests concerning actual copies of court records may be obtained from the Rutherford County Archives, 435 Rice Street, Murfreesboro, TN 37130, (615) 867-4609 or http://www.rutherfordcountytn.gov/archives/index.htm
---
Rutherford County Historical Society Officers:
President: Joyce Johnson
Vice-President: Jeff Adcock
Secretary: Bonnie Black
Treasurer: Gwendolyn Hopkins Boyd
Program Chairmen: Dr. E. C. Tolbert and Bruce Johnson
Editor: Susan G. Daniel
Web Master: Frank Caperton
Board Members:
James "Toby" Francis
Vicki Norton
Greg Tucker
Lisa Ramsay
Nell Blankenship (Emeritus)
Ernest K. Johns (Emeritus)
Alice N. Ray (Emeritus)
Rutherford County Historical Society Chairmanships
Museum Coordinator:  Gwen Boyd
Chairman of Committees:  Jeff Adcock
Landscape Chairman:  E.C. Tolbert
Publication Chairman:  Vicki Norton
---