Monday, January 19, 7PM, Rutherford County Archive, 435 Rice Street Murfreesboro, TN – RCHS Monthly Meeting
Monday night's speaker will be Tim Greene of Appraisal Services of Lebanon, Tennessee.  Tim, an antiquarian collector, will show us and tell us about old currency, coins, slave papers, etc.
---
Monday, February 16, 7PM, Rutherford County Archive, 435 Rice Street Murfreesboro, TN – RCHS Monthly Meeting
Damon Johnson will speak on the history of Powell's Chapel Baptist Church located in the Mona/Walter Hill community.
The following is from www.PowellsChapel.com:
The History of Powell's Chapel Baptist Church
In 1875, Rev. W.D. Powell preached a series of sermons at the abandoned Shady Grove Methodist Church in northeastern Rutherford County. Following this revival meeting, several members of the community came together to form a new congregation led by Reverend Powell, a student of Union University on Murfreesboro. On July 25, 1875, the church formally chartered with ten members: Mrs. Callie Jones, Mrs. Sarah Short, Miss P.P. Sanders, Mrs. Elizabeth Short, Mrs. Mariah J. Malone, Mrs. Martha Tucker, Mrs. Sarah A. Short, Mrs. Mary A. Harris, William Short, Sr., and William Barrett. The church voted unanimously to name the new congregation Powell's Chapel Baptist Church.
Rev. Powell served as the first pastor of the new church. In October 1875, the church elected and ordained its first deacons, John B. Vaughter and William Short completing the organization of the church. At the time, Powell resigned as pastor.
Despite the loss of its first pastor, the new church experience a period of great growth during the first quarter of its history. In 1903, the Concord Association minutes record that Powell's Chapel baptized the most people in the Association – 26.
In 1907, the church needed to expand its facilities to accommodate the growing congregation. They exchanged the land where the original church stood to R.H. Henderson for a lot about on-half mile south of the old church and erected a new, modern building. On March 10, 1929, fire destroyed the building, but the church rebuild before the end of the year.
Over time, the church continued to expand its facilities for the community. Sunday school rooms were added in the rear of the main building in 1942. In 1960, volunteers built additional Sunday school classrooms and restrooms. The Gary Rickman Educational Building was added in 1982 with the Thomas Rowlett Building joining in 1993.
With its rich history, Powell's Chapel Baptist Church continues to be a beacon to a growing community. The surrounding landscape changed greatly since the first meeting of the church in 1875. Although family farms no longer surround the church, the fields continue to be white with His harvest. Its members look forward to many more years of service to the Lord through this vital church and community.
---
NEW: RCHS Logo Items
Did you know the Rutherford County Historical Society is offering logo items for sale?  We will have three items for sale at Monday night's meeting, January 19.  Ask your friends to join the Society so they too can enjoy the benefits of membership while supporting our local history.
Currently these items are not available for purchase online so be sure to attend Monday night's meeting and/or visit the Ransom School House Museum Saturday mornings from 9AM-noon.
---
NEW: Rutherford Ramblings by Greg Tucker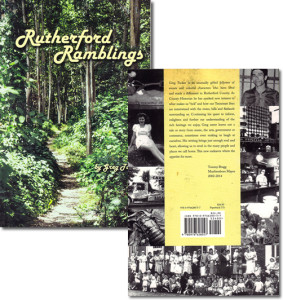 This is the latest stories and tales from Rutherford County that our County Historian has collected.  The book is now available for purchase. "Rutherford Ramblings" by Greg Tucker. Here are the latest stories and tales from Rutherford County that our County Historian has collected.  Cost: $24 + $6 shipping and handling.  Send check made to RCHS, P. O. Box 906, Murfreesboro, TN 37133-0906.
---
Ransom School House is open on Saturday Mornings
The Ransom School House is now open on Saturdays, 9AM-12AM (noon).  If you would like to come and do research using our publications, purchase any of our publications, or just take a tour of the 1920s classroom and the building itself, someone will be there to greet you and assist you. We also need members to greet visitors. For further information or to sign up, contact: Gwen Boyd – 895-0028 Please tell your friends to visit the Ransom School House at 717 North Academy Street soon!
---
RCHS Publications 1-39 are now available online!
The Rutherford County Historical Society put out publications of the county's history from the first year the Society was formed.  During the first years two publications a year were produced and available to dues-paying members. The publications were about 80-100 pages in length. Later because of printing costs, there was just one publication per year; then every other year, until Publication 39.  Frow Chips as a 10-page newsletter/history periodical which began in 2003 replaced these publications. Publications 1-39 were to be mailed to members who had paid dues, which proved to be expensive and mailing was discontinued, and is why we still have some of them on hand in our storeroom at the Ransom School Museum. Some of Publications 1-39 are out of print, but we still have others which can be purchased for 50¢.  MTSU's digital library has made all these publications available on-line at: http://digital.mtsu.edu/cdm/landingpage/collection/rchshttp://digital.mtsu.edu/cdm/landingpage/collection/rchs
---
Our Rutherford County Archive
The Archives' staff can assist you with researching county government records, genealogy requests, historical property information, class assignments, and so much more.
Information and/or requests concerning actual copies of court records may be obtained from the Rutherford County Archives, 435 Rice Street, Murfreesboro, TN 37130, (615) 867-4609 or http://www.rutherfordcountytn.gov/archives/index.htm
---
Rutherford County Historical Society Officers:
President: Joyce Johnson
Vice-President: Jeff Adcock
Secretary: Teresa Wrather Kant
Treasurer: Gwendolyn Hopkins Boyd
Program Chairmen: Dr. E. C. Tolbert and Bruce Johnson
Editor: Susan G. Daniel
Web Master: Frank Caperton
Board Members:
Jonathan Fagan
James "Toby" Francis
Vicki Norton
Greg Tucker
Ben Weatherford
Nell Blankenship (Emeritus)
Ernest K. Johns (Emeritus)
Alice N. Ray (Emeritus)
Rutherford County Historical Society Chairmanships
Museum Coordinator:  Gwen Boyd
Membership Chairman:  Sandra Campbell
Hospitality Chairman:  Jeff Adcock
Chairman of Committees:  Jonathan Fagan
Landscape Chairman:  E.C. Tolbert
Publication Chairman:  Vicki Norton
---