Sunday, November 21, 2021, 3:00PM Rutherford County Mayor Bill Ketron invites the public to attend the ribbon cutting and official opening of the new Rutherford County Courthouse Museum. The new museum located in the 1859 Rutherford County Courthouse highlights the many achievements and advancements of Rutherford County's diverse history from early Native American settlements to the advent of major corporate development in the 1980s. Along the journey, visitors will be engulfed in the material culture that makes Rutherford County unique, from early period furniture, stories from the military home front, to commerce and community development that help to narrate the county's history within regional and national context.
Preserve and Promote OUR local history!
The Rutherford County Historical Society has been preserving and promoting OUR local history since 1971. Perhaps you are researching your family, your property, perhaps just plain, old fun facts - the RCHS is an exceptional resource. The RCHS hosts 'Coffee & Conversation' each Saturday morning from 9AM-noon at the Ransom School House Museum, 717 North Academy Street, Murfreesboro (Tennessee). VERY informal, VERY fun and VERY informative. Our funding comes from membership dues, grants, a trust fund and donations. We have no paid staff - we are all volunteers thus every penny of your membership dues or donations goes to preserving and promoting our local history.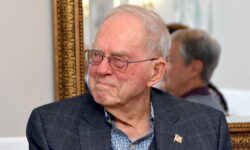 November 23, 2021, Carriage Lane Reception House Tuesday, November 23, 2021, was a special day at the Rotary Club of Murfreesboro (aka Noon Rotary) – 2021 Rotarian of the Year Brett Garner interviewed U.S Navy veterans Phil Barnett (service date (1973-2004), World War II Navy vet George Pope (1943-1946) and…
Join the RCHS today!
Believe it or not, the $25-a-year family membership is our primary source of income. $25 goes a long, long ways to helping preserve our local history. A membership runs from January 1 – December 31 each year.